Progettate da e disponibili esclusivamente con Wonderful Italy, in ogni esperienza Originals uniamo tradizioni locali e idee innovative per farti scoprire meraviglie nascoste. Radicate nel tessuto sociale e poco conosciute, queste esperienze sono progettate e gestite da persone del luogo. Siamo partiti da qualcosa di bello e lo abbiamo reso meraviglioso. Grandi esperienze con un plus, offerte dai nostri partner e dal nostro team locale.
Panoramic Details Location Reviews Contact us. A beautiful suite inside an elegant, finely furnished villa nestled in Marsala countryside, less than 5 km away from the sea. Scirocco Suite is located on the ground floor of our villa and it is cozy, warm and beautifully decorated, through the use of wood and ceramics. It features a comfortable queen size bed and a private bathroom with large shower stall.
The entire villa, which includes 4 suites, is an oasis of relax, surrounded by the countryside, with a square metres garden and three terraces: The shared kitchen is equipped with all the comforts you may need and with a nice table in the middle, then the bright and large living room with TV has two comfortable sofas and a table where having lunch.
A delicious breakfast will be served in the common areas, including the sunny terrace on summertime, or in each private bedroom if you prefer. At your disposal, bicycles for moving around, air conditioning, washing machine, TV and free Wi-Fi in each bedroom, and, on request, laundry service.
We also offer to our guests truly authentic experiences to live like a local. If interested, visit our website wonderfulitaly. The location of our house will allow our guests to experience the joyful and relaxed atmosphere of the sicilian countryside. Nonetheless the location is also great to visit the centre of Marsala 4km and perfect to explore the surroundings areas, the local restaurants and bars. Riserva dello Stagnone is just few kilometers away from the house, and with its traditional salt mills, the saltworks and the historic imbarcadero to get to Mozia island it will surely enchant our guests.
We went out to celebrate a friends new job and wanted a fun place with great food. The cocktails were out of this world! And that is where the awesome stopped. It seemed like there were 2 servers for the whole place. She did the best she could but she just had way too much to do.
Our food took over 45 minutes to come, and when it did it was near room temprature. We ordered the gelato for dessert. The atmosphere was nice, but about 15 minutes in there was standing room only at the bar. One poor table was fully engulfed in standing people. The temprature was VERY warm in the dining area- my guess is it was all of the people- but I would assume that there should have been some way to regulate it.
The bathroom access was The bathroom I used was so incrediby tiny and had no light, like none. Peed by candle light of 2 tea lights. We enjoyed the company of our friends inspite of it all, but we will not be going back. If you go, I hope you have a much better experience! We always love to go to Al Vento!! Great service, great food! The bread was good and there was free parking. Out waiter was very nice. One of my favorite places for always good food. Parking is never an issue with both a parking lot and street parking. Easy to get to off the freeway. Poor service, 30 minutes to get drinks before menu, then incorrect to delivered.
Chicken piccata was just so-so. Too much pesto on the pasta and not enough lemon on either. My wife's lasagna was good. Could use another dinner entry to try. We have gone here several times now, and have never been disappointed. Really love the theme dinner - pairing events.
Al Vento Coupons in Minneapolis & St. Paul - Chinook Book
The group was really fun - made friends with several tables around us which made for a fun party atmosphere. The courses were timed and served perfectly. All new dishes and they were good. We had a very good waiter - friendly, responsive but not intrusive. Can't beat half-price bottles of wine. Nice quiet location where you can enjoy dinner and a conversation. We just moved to the neighborhood, and with it being the first cold night of winter, we wanted a warm, cozy meal. Al Vento was sooooo delicious, and the whole ambience was inviting and warm. The service was really fantastic, and oh my goodness, the meatballs are fab!
Treat yourself with one of their funky cool cocktails. Do not leave without having the doughnuts for dessert! We cannot wait to go back: Very disappointing dining experience. We used to live in the neighborhood and occasionally come back to dine at Al Vento. This will probably be the last time we dine here. The service was very slow even though the restaurant was not very full. I used to love the bruschetta but it came to the table burned to a crisp. My husband and I had the same entre but you would never have know it was the same dish. His pasta came with no meat, mushrooms or cheese.
It was a plate of plane noodles with a little olive oil. When we pointed this out to the waiter, who didn't check on our meal until we were done eating, he made the comment that sometimes this will happen when the chef is in a hurry. When the final bill came we were charged for the full order even though we complained the entre totally missed the mark. No one seemed to really care that we had a terrible dining experience. I read several other reviews similar to our experience. Hate to see what was once a wonderful place to dine make such a fall. Great ambiance and wonderful staff serving great food.
Enjoyable 'outside' dining while sitting in the enclosed but fresh air patio. My wife and I went for restaurant week to try it out. We did the 4 course dinner which was hit or miss. The 1st course appetizers were very good, I had the stuffed mushrooms and my wife had the calamari. Both were great, and their red mother sauces is fantastic and worth trying. The wasabi Cesar salad was interesting but a bit too spicy, and the shrimp risotto was meh.
I was disappointed that my medium-rare steak 4th course was tougher then my wife's medium well steak. I would have sent it back, but the kitchen was very slow in getting food out and I was worried that it would take too long. I don't plan on coming back but if I did, I would probably just grab an appetizer or a pasta dish with the red mother sauce. The food, drinks, and service were all very, very good. I started with a cocktail - Reviver One of the best drinks ever. I dined alone, but would have preferred to have others with me so I could sample more items. I ordered the marinated Italian olives and Neapolitan style mozzarella and basil pizza.
Ended with the house made limoncello. I don't live in Minneapolis, but visit times a year. It's now my number one favorite restaurant. I'll return every trip. Started with the bruschetta sampler, which was quite good. The bruschetta had a multitude of flavor profiles that were very charming and unique; the squash bruschetta captures exactly the aromas and tastes of autumn in every bite!! The wild boar risotto did not disappoint either, 4 out of 5. The boat was tender and robust, but the risotto wasn't as light and tender as you might find in some 5 star Italian restaurants, but very good!
Our server was new or preoccupied, but more than adequate. All in all, Al Vento is a strong 4 or 4. Great food, service and wine! We have been here several times, and will always pick this spot over other Italian restaurants that may be closer! The tasting menu they had when we went there was an excellent deal. Great food and service! We've been coming here for years and have always enjoyed it until now. The food was mediocre and the server was far from being engaged or engaging. With the many good restaurants we have to choose from today this one has slipped to a not so much level.
The service was exceptional and the food was fabulous. Great value will recommend to family and friends and hope to visit often. Al Vento did not disappoint. The size of the portions were perfect to perfectly balance all the courses for the evening. THe main dining room is very drafty. Everytime someone walked in or out a blast of cold air entered.
Appetizer and salad came out quickly however the main course took an absurdly long time. When the ravioli came out, it was somewhat hard as if it was sitting under a warming light for too long. Overall dinner did not live up to our expectations. Excellent Italian food at reasonable prices. Our table was a little too close to the bar on New Year's Eve and a little too close to the front door making us a little chilly but overall, fantastic!! Normally al Vento is one of our favorite Italian restaurants.
This time all of the dished four of them really lacked character and were underwhelming. We'll give it another try, however, before we search for a new Italian restaurant. This restaurant has great Italian food and is comfortable to dine in. Our only criticism is that with dessert, one of our coffee cups came to the table dirty.
Have not been there in a couple years. Food is still outstanding! Service is second to none! The wild boar was good. Beef short ribs were amazing, best Cesar in town.. We enjoyed our visit. We had been there before and enjoyed it. Our server was very good The food was good. We sat in the enclosed patio area We were part of a group and Al Vento has been a favorite. However, this past weekend, the special was a mushroom ravioli in cream sauce. What was not mentioned was the sauce must have had horseradish in it and 3 people had it and didn't like that powerful taste that was not described to us.
However, shame on us for not bringing it up that night. That was our fault. The ambiance and company was great. The food was not what we expected. There was a brief wait even though we had a reservation but service was very good and food was delicious- tasting menu is a great deal if you aren't sure what you want. I had an enjoyable evening meal with my daughters at the U, who picked me up at the airport. It is very convenient from MSP. We opted to sit in the al fresco room, but as it is fall, it is enclosed and the over head heater kept us warm.
We decided on entrees and shared bruschetta and the beet salad along with the bread and olive oil, it was plenty. They always have a great pre fix and afterwards, we kinda wished we had done that, although we had plenty to eat. My noise level rating is for the room we were in, it should be noted the main dining room conversations are more of a din.
It was a busy Saturday night and lots of bustling around by staff. He suggested the tasting menu which was a great suggestion. Mushroom bruschetta was ok--incredibly overpowered by garlic and I like garlic --to the point that you could barely taste the mushrooms. The gnocchi with lamb meatballs and tomato sugo sauce was outstanding! The waiter said it was his favorite dish on the menu and I understand why. Finished with homemade chocolate gelato which was ver good. This was my first visit to al Vento. They accommodate my group of 8 at a popular dining time, provided excellent service, and the food was outstanding.
I am already recommending al Vento to people! I will definitely done there again. Every dish here is amazing. Everything from the pasta to the sausage is made in-house. Every time we go we are impressed and friends are blown away when we bring them here. I lived in Italy and the food is some of the most authentic Italian cuisine in the Twin Cities.
I went to Al Vento to celebrate my boyfriend's birthday and it was a great place for a Romantic Dinner. We had the tasting menu, and everything on it was delicious especially the Egg-Drop soup. The Old Fashioned and Italian Cream sodas so many fun homemade flavors! Overall dinning experience was disappointing. The food lack flavor and was over price. I tried 3 dishes and all 3 of them lack the ingredients too make it flavorful.
I won't be going again. As usual we were not disappointed in our dining experience. Friendly, great service, and even better food. My dinner guests were inpressed. Al Vento worked great for a family Birthday Dinner. We had 6 adults and 2 little kids for an early dinner. Service was very friendly, but a little spotty. Olive oil Sea Salt Gelato was a wonderful way to round out the evening. Oh, and lots of Red Wine! Dinner was excellent - as always.
Introduced two new couples to the tasting menu. First time I've been so I tried the tasting menu and it was fantastic! Great service with a very knowledgeable waiter. They have a nice patio to enjoy good Italian wine and a wonderful meal. Keith was our Server, and not only did he have a winning smile, but he gave us great service! Seated on the heated patio was very nice. Took a chance on this restaurant through Open Table, and was very impressed! Food is wonderful upscale comfort food-like going to your classy Italian Nonna's house for dinner. Best meatball ever and the pasta is cooked to al dente perfection.
The arugula salad is not to be missed, and a little pistachio gelato makes a perfect shared dessert. Take time to linger and be spoiled by the excellent wait staff. We're coming back, and bringing the rest of the family! We have been to Al Vento for brunch and dinner, but this was the first time for a quick bite after a concert. The pizzas and antipasti were excellent.
The wine list is somewhat limited, featuring Italian wines, which are not always a good value in today's economy, but the wine was good. Tap beer is somewhat limited, and it would be great to have more local craft breweries included. The service was excellent. It was quiet, since it was 9 PM on a Saturday evening. Enjoyed our evening with old friends! Excellent food as always but much too noisy! Couldn't hear my companion sitting across the table.
They need carpet or noise dampening ceiling acoustics. First time visitor, went for Restaurant Week. Excellent food, playful and delicious menu. Waitress disappeared for long stretches of our meal, but the support staff was attentive. Will definitely go back! This was our first time to Al Vento. The food was fantastic and our server was very attentive and helpful. I would definitely recommend this restaurant if you like Italian food.
We will definitely be back! Al Vento's tasting menu was a huge hit with our group. Delicious and they even had gluten free pasta! New takes on old favorites. Great experience for our out of town guests. Had the shrimp and gnocchi in mild red sauce. Food was excellent in taste and presentation. Great value for 4 courses. Great choices on the tasting menu. Love the fact that you can converse without all the noise of a typical large restaurant. Our server was not great. Never checked how we were doing, how was the food, etc. Very very good food. Would highly recommend this restaurant to others and will go back again.
Our large party had a wonderful evening with top notch food and exquisite service. Well done as usual, Al Vento!
Best 2018 Holiday Restaurant Gift Card Deals In Minnesota
My most favorite restaurant in the Twin Cities. Took a trip to Al Vento for dinner, had very good salad and roast duck both prepared with excellence. The server was not clearly on top of things though, forgetting to bring my wine and not clearly communicating. However we had a pleasant enough experience and it is all about the food!
Al Vento never fails on that with the most excellent choices and presentations! Wonderful atmosphere, delicious food, especially the salad and bread. Unfortunately the service was lacking. Either they were understaffed for the outside seating, or they have made a poor choice at having only one waiter. They did have another person who came with bread and water, but he seemed rushed and forgetful of bringing the bread.
We also had to ask for napkins and cutlery. The tasting menu is the way to go. By far best way to sample what great dishes these chefs turn out. We were very disappointed with our experience on Saturday night celebrating our anniversary. We have been faithful patrons of Al Vento since it opened and have always had great service and enjoyed the food. This last visit, the food was below average not a lot of unique entrees as we have experienced over the years and the service was very poor. I am not sure if our server was new, but she couldn't even answer some simple questions about ingredients in the dishes nor did she highlight any of the entrees.
Needless to say, we were extremely disappointed. We went to Al Vento often but our past few times have not been good. This past visit it took 40 minutes to get our wine and 20 more minutes for our first course. I had reservations for 5: We were with friends and were very disappointed.
Not sure if this will still be a regular place for us anymore. Great value and fun with tasting menu. However, bruschetta with spaghetti squash was served cold; needed to be warm. Pasta with squash was very salty; no offer to replace. Gnocchi was really just polenta.
We are regulars at Al Vento. The food this time was not quite as good as usual but still good. Got there for our reservation and they were closed and doors were locked. Ended up having a wonderful date at Stella's instead. Bread delicious, antipasta and main meal excellent.
Al Vento is always a great choice for a nice, authentic meal. You can't go wrong here. The food is unique, flavorful and very good! I had forgotten how good it was and will be back soon! The ambiance, location and service are great! However the food was disappointingly not very good. My pasta had hardly any sauce and was very dry. It said it came with wild boar but there were 2 smaller pieces. My guests weren't too impressed with their dishes either -- 2 had the gnocchi and 1 had the ravioli of the moment. Of all the dishes I thought the ravioli was the best.
We got a order of all 4 bruschetta and they were all only ok. My husband and I took his parents here for dinner. It was nice and quiet so we could converse with ease. The food was good, although slightly too garlicky for my taste. The wine list could be improved. We like Al Vento for a special occasion and a romantic night out. Howerver, when the person sitting next to you is in bike shorts, workout clothes or sporting a baseball cap, it is discouraging. The lack of a dress code will keep me from visiting Al Vento again.
The staff was friendly. Noah, the bartender made great recommendations. We have eaten at Al Vento many times in the past, and we will keep going, especially when they have the Butternut Squash Ravioli. My wife and I have been going to Al Vento to celebrate our birthdays and anniversaries for several years. We have never been disappointed with the food nor the service. We love the ambience. We hadn't eaten here before but thought we'd try something new, based on reviews. We love Italian food, and are always on the lookout for a place that offers authenticity.
We had a reservation but arrived early and were seated immediately in the back dining room. Our waiter, Noah, did an excellent job of explaining the menu and taking care of us. He also got all the Italian pronunciations correct, which always impresses me. The wine selection is good, with some authentic Italian choices. The food was delicious.
We started with the olive tapenade bruschetta, and then had salads - beet and Caesar. Lovely presentation and perfect portion size. We decided to try the pastas. One of us had the spaghetti. The sauce was incredible and the meatballs were a good size and had great flavor. The other order was for the risotto with the wild boar ragu. The meat in the sauce was especially tender and tasty.
In House Booking
I'd love to go back and try some other selections, and I would for sure go back in the summer and try out the patio - that looked like fun spot. This was a wonderful dining experience! Arrived for a special gathering. Food was good - not fantastic, but good.
A number of dishes were sampled, including pizzas, gnocci, ravioli, salads, and desserts. It was half-price wine night and we sampled a couple of bottles - a chianti and a slovenian pinot grigio. Good offerings on wine but nothing stunning. It should be noted that half-price nights only offer that deal on a certain group of bottles - not the entire wine list. So if you pick out something you might like before going to the restaurant, it likely won't be available!
Maybe others are voting with their feet and going elsewhere? This is such a buzz kill for me. The food can be great, but if you have to wait 15 minutes after your dinners have been cleared away to finally ask a waiter to take your dessert order, it casts a shadow over the whole experience.
The staff on this night seemed to congregate in the bar and our server only came to the table when begged. Sad - I've had much better service here in the past. Another nice meal before a Guthrie play at Al Vento. We dine here roughly every other month and we have only on rare occasion been disappointed. The service was excellent, the food was superb, and the half price bottle of wine before 6pm was much appreciated. My wife had lobster gnocchi and I had the old standard, spaghetti with mother sauce and those wonderful meatballs!
We both enjoyed the olives as an appetizer and romaine salads. Or dine outside on the patio for less noise. Thanks very much Peter and Nick?
Very nice dining experience with my new girlfriend! We went a little later than we usually do but the food and wine were fantastic a cozy little spot that's as good as it was the day it opened. I have dined here several times and am never disappointed. The menu is diverse and offers something for all tastes. Half price wine prices on bottles and other happy hour specials are a plus. The food is always good here as is the service, menu selections just weren't as appealing to me this visit. The steak was excellent. Patio seating is always nice when the weather is so pleasant.
Service was not the same quality I have come to expect, nor was the food. It seems the selections are not that exciting lately, we had the tasting plates. I had the roasted red pepper bay scallops with gnocchi, while it was pleasant enough as far as flavor goes, the scallops were so small, smaller by far than the gnocchi and everything was swimming in a runny sauce. Other courses were fine, what can you do to gelato? It was a busy night but the service was excellent and patio seating was very enjoyable. The special was a four-course dinner in honor of restaurant week, it was a great buy and delicious.
Gnocchi isn't often on the menu but was an option for the main course, complete with lobster, yum! I've never had a bad meal here and highly recommend it. Half price bottles of wine are a good choice, they will wrap the bottle if you don't finish it and you can take it home. Was there with a friend and we had a lot of catching up to do so dining was leisurely and no one seemed to mind.
Scirocco Suite - B&B doppioKoncerto?
fiesta guadalajara meridian coupon;
drugstore.com coupon code 10 off 80?
RSVP - Minneapolis/St. Paul - Al Vento;
If you are looking for great food, a delightful patio and a convenient location and parking, this would be a great choice. Good taste in food, a great wine list, and a quiet place. It is a great place for dates and casual conversations. Portions are not as big could be good or not so good and pricing is between regular and expensive in a decent range. Great food and service, but a lot of bugs on the patio. We gave the mosquitoes a good dinner too while we ate.
Need to work on their drinks a little too. The olives in the martini were a but odd tasting. Prix Fixe dinner was good value. However, pasta a bit clumpy. Limited per glass wine choices. Disappointed by my table location very close to swinging kitchen door with lots of noise and undesirable view. Cannot believe the front of house person let this go unaddressed. Had the opportunity to finally visit this charming neighborhood gem with my dear sister and was more than pleasantly surprised at not only the allure of its environ but the above average Italian fare.
Now that this has been tried I will keep it on my radar more often. Try it as soon as you are able. A fabulous South Minneapolis fave. Very small menu, which changes often, but always lovingly prepared. Handmade pasta, unique pizza, gorgeous salads, and heartier secondi. Awesome, personal, unobtrusive service, also. We were all 4 disappointed in the high increase of the entrees.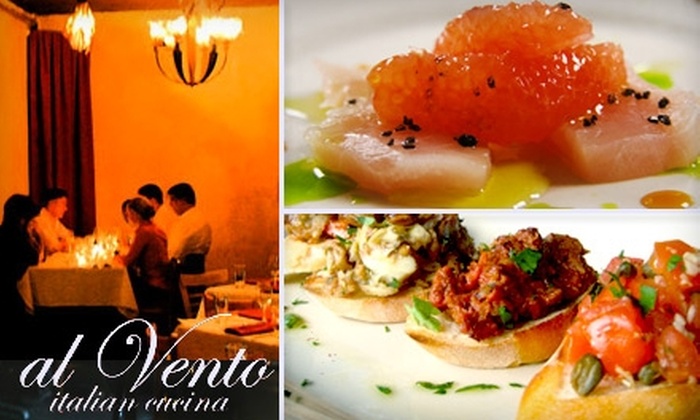 Beer and wine also went up. Unfortunately there was a birthday party at a nearby table with 8 people shouting, so the experience was less than optimal as we could barely hear one another speak. We were there on a Monday night. It was a miserable experience since we could not have a conversation. We asked to move to the adjacent room but were told that it was not 'open'. I would think when there is a large party being very loud, you would either offer to move them into another room or let the other people move. Or there should be a nice way you can ask customers to try to be a little quieter since it is a very small space.
It was very, very loud in the back dining room. My friend and were yelling at each other. Their food id very good but would not go back with that noise level. We have been there twice in recent months. Our last experience was better overall. They were in the middle of a happy hour and an event so it might have been timing.
Our waitress took 10 minutes to greet us and didn't really go above and beyond to make our experience better. Asked the server for sugar then waited 30 minutes, after reminding her twice. By the time she brought it the coffee was cold. After receiving our entrees I asked for silverware which she never brought. We gave up, paid with our open table dining certificates, then went to brunch at Cafe Maude. This used to be one of my favorite restaurants but we won't be back after this experience.
Everything and I mean everything is so good and fresh. My husband notes constantly, 'Their meatballs are the best ever'. I felt our server was not attentive. It took a long time to get our drinks from the bar. Our food was lukewarm. It was just ok, I will not make an effort to go back. Jonathan Hunt and company knock it out of the park.
Sip on a craft cocktail, choose a bottle from the well informed wine list, enjoy the delicious tasting menu or order from the seasonal menu. This is indeed a neighborhood gem I thought that was too much. We sampled each others' appetizers, salads and main dishes and all were very tasty. On top of that wine bottles were half price that day. This was a very pleasant surprise and we will be returning soon. It was also nice to sit on the 'porch' open to the pleasant fall air but in an area that can also be closed off and made cosy for the winter.
The service and food were excellent. The one disappointment was the music that played from speakers located nearly every three feet of wall space. We tried changing tables but couldn't get away from it. Nice, romantic Italian music would have fit the restaurant, but it was not to be. Great food and great setting!
Very quiet and intimate setting, perfect for a date! We each had the prix fixe menu. The entree we both chose, the linguine bolognese w bison, was ok but a bit dry- needed more sauce. The desert, gelato, I chose tiraimsu was avg. The outdoor setting under their extended roof was delightful. Whenit rained lightly, mid meal, we were fully protected! But, given the price and nice patio setting, in addition to half off wine bottle, well, this place is a great deal. Just dont expect high end food.
However, the food was decent, esp given their reasonable prices. I will return, no doubt about it. The flavors were complex, mouth-watering and delightful! One thing we have always liked at Al Vento is the fact that the bread arrives so quickly, so that we can enjoy it with our wine.
This time it didn't arrive. We asked our waitress for bread when she came to take our order. She said that she would bring it, but she never did. We finally got the attention of another server who brought it right away. This was a bit annoying and surprising, but we still had a lovely evening. The food was delicious, and the bread when we finally got it was excellent as always. Half price bottles of wine during happy hour, food was delicious and really enjoyed the lobster bruschetta.
My girlfriend and I went to Al Vento for her birthday. I was reccommeded to take her there by my brother when I asked for 'The right mix of romantic and classy and Italian'. His recommendation turned out to be very correctly made. The drive for me was only 30 minutes or so, but for her, I would go anywhere. The staff was wonderful, professional, friendly, and attentative.
I could have not asked for a better time. My girlfriend could not find anything bad about it! We ordered the 4 course meal, and it was very very delicious. I am going to pass on the word to anyone who is looking for a good place to go on a romantic trip for food. Was visiting friends in Minneapolis and looking for a restaurant to go to pre-tpre-theatre.
Was also looking for a good Capers salad and 'tapas' type offerings. The salad was excellent, the pizza was good but was supposed to have 4 cheeses Restaurant was busy and noticeably loud prior to being seated. The cocktail and food menus were well-rounded, seasonal, and interesting. Our server, Ben, was excellent. Our meals were nicely presented, generously portioned, and overall, delivered on the 'interesting' promised in the menu. I took a friend and my great niece to Al Vento for a meal because it is in my neighborhood and I wanted to show my friend from California a great resturant in a south Minneapolis neighborhood.
The food was excellent as always. Al Vento had really good food. I liked the 'Sampler' menu, so I could try a few different items. Everything I had was delicious and fresh. We were two people who are vegetarians, and they felt like they had sufficient options as well. We ordered a bottle of wine half-price bottles on Mon! But, then our waiter took forever to come over and get our order. Then, between each course, it took forever to get our food. I enjoy trying to eat slower, but I think it was a bit too long. It wasn't all that busy either, but busier than I thought for a Monday night.
Our waiter was good Lou , so I don't know if it was the kitchen that was slow or if it was the wait staff. I will give it another try because food was great. But, wished for faster service! The service was very poor. We must of had 4 or 5 different servers bring food to us. At one point a server asked us if we'd had salad yet.
Another picked at his ear as he set food on the table. Overall the servers seemed sloppy and not very professional. We ordered the tasting menu and had to wait a long time between simple courses. The fried seafood was cold when it got to our table, the mozzarella was rubbery, the pasta was tasty but only room temperature and the wrong sorbet flavor was brought to my husband.
Not a great experience. Our server also seemed to be doubling as the Bartender, at times?? Food was very good. I went to Al Vento with my sister to celebrate our birthdays both in July. We decided to do the fixed price menu special and I found the food to be okay but not great. My sister ordered the eggplant with pasta and got a piece of fried eggplant plopped on top of pasta without much sauce or oil. I no longer remember what I had, since it wasn't very memorable. I've been here before and remember liking it more then.
This time around I found the food to be lacking and the interior of the restaurant in need of some updates. Outside patio is delightful. Seems over priced when compared to similar restaurants. Went for NYE and very attentive. Most restaurants already overburdened ruin everything. Not these guys; everything was to order and fabulous as always. We just keep having great meals at Al Vento. Food is great - try the stuffed mushrooms and clam linguine. Caesar salad is best in the Twin Cities.
Service was great - helpful suggestions, always right there when we needed it. We'll be back soon. Al Vento is one of our favorite neighborhood restaurants. We try to make sure to go every couple of months and they never disappoint. Their current tasting menus are a real value. Had a horrible experience here.
After no shorter than 58 minutes I looked at my watch when we ordered , we were handed the incorrect salad. I informed the delivery person that this did not look like a ceaser salad, and she brushed me off. I then raised my hand for our waiter, and he seemed a bit stressed. I informed him of the salad mistake, and he offered to correct it ASAP. As he walked away our main dishes arrived, which were less than hot. After another couple minutes we still had no new salad and I had to track down the waiter once more. I informed him that not only do we still have the wrong salad, but we never received our appetizer.
He apologized and brought out the correct salad and correct appetizer, all the while our main dishes continued to get colder. I could tell the cook took her his time in preparing the meals, and the taste was great, but the service killed the entire experience. I took my fiance here based on the great reviews I read online, which is the driving factor for my review now. I hope my experience was a fluke, but based on the amount of attention that a server needs to dedicate per table, and the fact there were only 2 servers when the table count can surely demand 4 or more waiters, Id be willing to bet this is a quite common experience.
Great food but horrible service! What a wonderful date night location. The tasting menu was spot on! The service was impeccable. Thoroughly enjoyed our meal at Al Vento! Had heard about it for years but had never tried it. We were pleasantly surprised. The caprese salad was absolutely deliciousa great time of year to have tasty tomatoes! And, the zucchini flowers were absolutely to die for! Just like my husband's Italian grandmother used to make! We will be back! Our first visit to Al Vento, and Anna took great care of us. Really great service; 5 courses timed out perfectly.
Food was very good; we enjoyed everything we ordered! Nice wine list and service. Beautiful Saturday night on the patio. Lovely neighborhood bistro; we drove from a southern suburb, and we would recommend checking out Al Vento. Disappointed that the advertised prix fix dinner on the website was completely different than what was offered at our table. We asked when it changed and they were unaware with the website version of the meals.
We went on this night specifically for the menu. We are regular patrons at Al Vento but will definitely take a break for a while. Wonderful Italian meal on date night. Couldn't have been more pleased with the service, food and atmosphere. Sadly, this was our worst experience ever at Al Vento. We have been fans for years, but it will be a while before we return. Our server did his best to deal with being short staffed, but we had to ask for every course and one of the pasta dishes ordered did not include all the ingredients on the menu and it lacked flavor because of it.
It was hard to get drinks or ask for anything because they were so short staffed in both the kitchen and in the dining area. We have always loved the food at Al Vento, but we were disappointed on this occasion and the constant requests for every service issue and food item made our evening challenging at best. I hope things return to normal at Al Vento. IF not I fear the city could lose what had been a fun and quality experience in the past. An excellent meal to celebrate my husband's birthday. The atmosphere is always pleasant. I particular appreciate dining in a room that is not overlit.
My one little quibble: A classy place like this shouldn't use that term. Nice ambiance and very delicious food! We had the tasting menu and loved everything. I had caesar salad and the seafood risotto - excellent! We do wish lunch was available weekdays - maybe this summer, eh?? We travel from the suburbs to dine at Al Vento. The food and the service are always great, and the outdoor space is wonderful in the summer. I highly recommend Al Vento!